Welcome
Welcome to the Id Wiki, a Wiki about the Korean manhwa Id - The Greatest Fusion Fantasy, a manhwa with art by A.T. Kenny based on a light novel series by Kim Daewoo. Please feel free to contribute to our site by creating or editing articles. We hope that you will enjoying browsing through our articles and Happy editing!
Synopsis
Chunwha is plunged into a world beyond his own... There he will struggle to find his own purpose among the many inhabitants of the new world including elves, dwarves, and even mages! Was it fate that had brought him there? Will he ever return to his own world?
Latest Chapter
Volume 27 Chapter 6 Summary: Percer is about to finish Id off and Selenia rushes to save Id by transforming into her dragon form. Selenia fires a series of attacks, lightning magic, and her own dragon breath. Percer ridicules Selenia's strength before counterattacking. Id tries to help Selenia but Percer does not allow him to interfere. Percer mocks Selenia's strength which enrages Selenia before knocking Selenia to the ground. Duke Keisa and Krevitz rush up the chain to aid Selenia and Id. Percer raises his sword charged with mana in order to take care of them before they can reach him. Id yells at Percer to stop and rushes in front of Percer. An explosion occurs and Krevitz is shocked at what had happened. Id has transformed into his Sword Heart Unified Form and blocked Percer's attack. Percer stoically comments that he is finally able to see Id's true strength.
Latest activity
Contribute to this wiki
To write a new article, just enter the article title in the box below.
Not sure where to start?
Featured article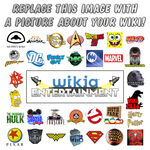 Fill me in with the first paragraph of an article that you wish to feature. Don't forget to include a link to the article so your visitors can read the whole thing.
Featured Video
Use this section to show a featured image or video